La rentrée approche à grands pas et, même si nous n'avons pas envie de voir les vacances se terminer, il faut commencer à tout préparer pour ce grand jour ! Aujourd'hui, je vous présente une collection qui sera parfaite pour scrapper vos photos et vos souvenirs, non seulement de la rentrée, mais au long de toute l'année scolaire ! Je remets en boutique les
papiers
, les
cartes
et les
wordarts
que j'avais créés l'année dernière, et j'ai décidé d'ajouter aussi un pack d'
éléments
tout neuf pour compléter la collection !
Vous trouverez tous les packs séparés à -30%, ou vous pouvez économiser encore plus et vous procurer la collection complète à seulement $6 jusqu'à dimanche
! Profitez-en !!!
It's almost time to go back to school for our kids (or maybe they already did in your part of the world) and, even if we don't want the summer holidays to end, we should get things ready for their big day! Today, I'm bringing back a collection that will be perfect to document not only the first day of school, but all the memories created throughout the school year! I'm re-releasing the papers, journal cards and wordarts that I had created last year, and I added a brand new pack of elements to complete the collection! You can grab the separate pack for 30% OFF, or you can save extra money and get the entire collection for ONLY $6 through Sunday! Don't miss this great deal!!!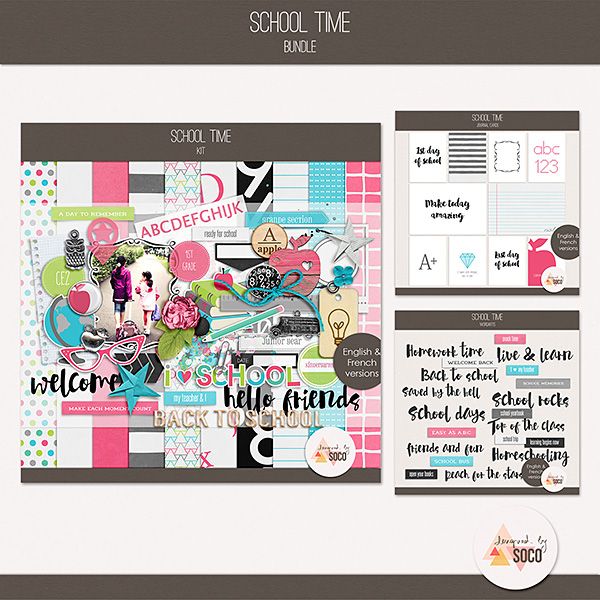 Le bundle comprend (veuillez cliquer sur chaque image pour voir la description détaillée du produit dans la boutique) :
The bundle includes (please click on each image to see the product's detailed description in the store):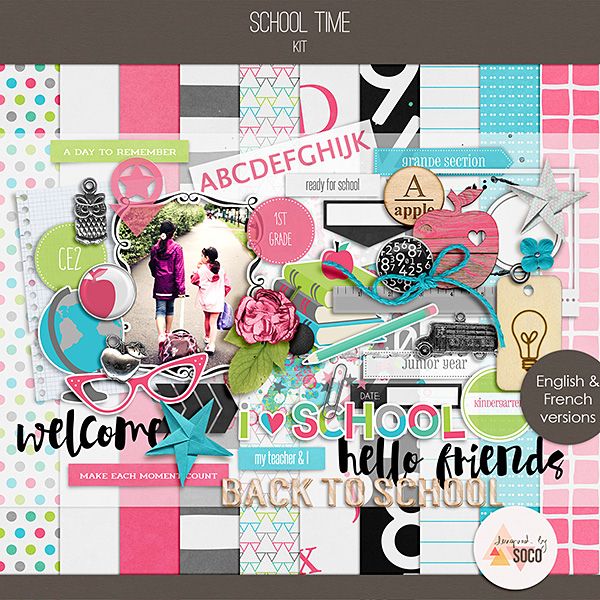 Tous les wordarts et les cartes de la collection viennent en deux versions (anglais et français), et le pack d'éléments contient en plus des étiquettes pour les différentes classes dans le système américain (de Pre-K jusqu'à Senior Year) et dans le système français (de la Petite Section jusqu'à la Terminale).
All the wordarts and journal cards in the collection are in English and French version, and the pack of elements includes tags for the different school grades in the American system (from Pre-K through Senior Year) and French system (from Petite Section through Terminale).
Voici un peu d'inspiration de la part des filles de la CT :
Here's some inspiration from the CT girls :
Je viens d'envoyer ce joli pack d'étiquettes assorties à la collection
School Time
, en cadeau à tous les abonnés à ma newsletter. Si vous ne l'êtes pas encore, abonnez-vous
ICI
car je renverrai ce cadeau la semaine prochaine !
I just sent this pretty pack of tags, matching the School Time collection, as a gift to all my newsletter subscribers! If you still haven't done it, subscribe HERE now because I'll be sending it again next week!
Je vous souhaite un bon week-end !!!
Have a great weekend!!!